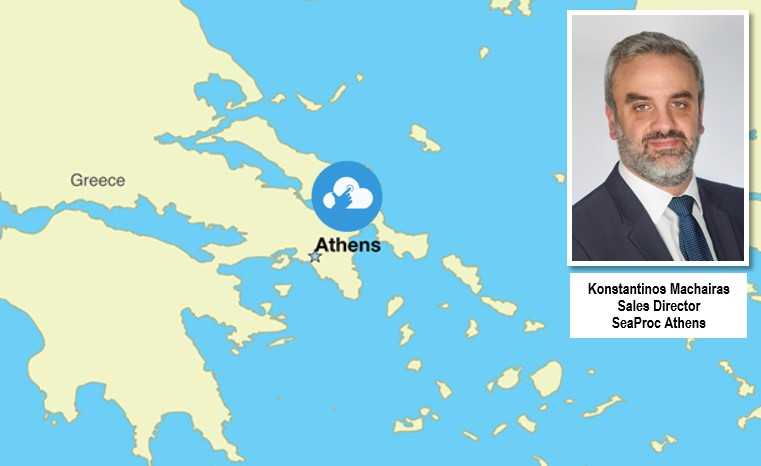 SeaProc launches new office in Athens
We are pleased to announce another expansion of our global coverage, and welcome Konstantinos Machairas to our team of maritime procurement professionals. Having an office in Athens is central to our service capabilities in the Mediterranean market, home to thousands of shipping companies and suppliers.
Kostantinos Machairas joins us with deep ties to the maritime industry. Growing up, his passion was to become a basketball player or a track and field athlete, and if that dream couldn't be realized, then, he wanted to be involved in shipping. He completed a Bachelor's Degree in Business Development in Shipping and a Master's Degree in Management of Business Innovation and Technology. He has since spent 11 years in various executive roles spanning from Sales Manager at Hudson Analytix, a US-based company offering technical and regulatory services to ship owners and ship managers. Also, as Commercial and Purchasing Manager at Total Shipmanagement Services. He is also certified for Professional Qualification of Institute of Chartered Shipbrokers.
SeaProc is a source-to-receive cloud procurement solution powered by Amazon Web Services. It connects ship operators with over 50,000 vendors globally and provides a unified platform for managing and monitoring technical trading, contract management, e-invoicing, logistics, business reporting and trading rule management in a scalable and secure environment. The service is backed by a 24/7 support hub that monitors trading and assists users based on urgent response time policy. iMarine Software has offices in New York, Istanbul, Hamburg, Rabat, Singapore, Manila, Taipei and Athens.
For further information about SeaProc and iMarine Software, please contact Sales@seaproc.com.
Want to learn more about SeaProc?
Get a full tour and live demo of SeaProc to find out how it can help your business - whether you're a Ship owner or a Parts Supplier.
Sign up for a free demo