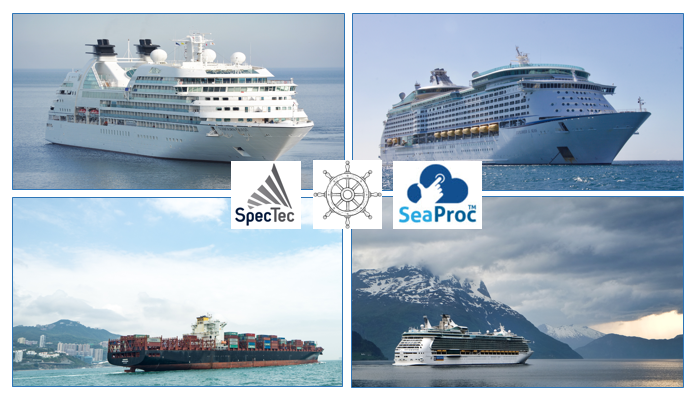 SpecTec partners with iMarine Software. SeaProc cloud procurement now available to Amos clients.
New York, USA – October 16, 2018
AMOS now offers integration with SeaProc, providing seamless electronic quotation management for an optimised procurement cycle. Seaproc also offers sourcing tools within it platform to achieve cost efficiency.
Marine buying organizations can now enjoy significant speed, accuracy and ease in handling transactions. Requests for Quote, Quotations, Purchase Orders, Contracts, Invoicing and Delivery Receipts are directly interfaced with Amos. This allows buyers to conduct all their daily activities within the Amos platform as all communications, transactions and negotiations can be handled internally.
iMarine Software developed and manages SeaProc, a source-to-settle cloud procurement solution powered by Amazon Web Services. SeaProc connects ship operators with over 50,000 vendors globally and provides a unified platform for managing and monitoring technical trading, contract management, e-invoicing, logistics, business reporting and trading rule management in a scalable and secure environment. The service is backed by a 24/7 support hub that monitors trading and assists users based on urgent response time policy. For further information about SeaProc and iMarine, please contact Sales@SeaProc.com
SpecTec is the global company behind the AMOS Enterprise Asset Management software. AMOS keeps the maritime industry running smoothly, safely and efficiently as the system is installed on over 7,000 vessels across over 500 companies. From the largest container and cruise vessels to fast, nimble offshore wind support vessels, AMOS enables our customers to keep their maintenance costs low and their up-time high. By bringing Maintenance, Procurement, Quality, Health and Safety processes together through our integrated software system, AMOS drives transparent reporting across all types of remote assets from ocean-going vessels, to Oil Platforms and land-based industries.
For further information about AMOS and Spectec, please contact sales@spectec.net

Want to learn more about SeaProc?
Get a full tour and live demo of SeaProc to find out how it can help your business - whether you're a Ship owner or a Parts Supplier.
Sign up for a free demo